Building green is a great goal – It can also be called "Building Smart."
It can be as basic as a good orientation for home design and layout, along with quality materials that are durable and long lasting. This reduces costly maintenance and repairs in the future. We recommend energy efficient products such as windows, doors, appliances, heating / cooling systems, solar systems and passive solar design, along with local and sustainable products.
All of this contributes to reducing your carbon footprint, which translates in lower utility bills and comfortable living.
It is our job to understand and manage client expectations, wants and needs. We strive for a well designed customer experience, along with a well designed building. When selecting materials we ask:
How long has the material been around?
How long will it last?
How much maintenance does it require?
What is "building green" mean?
Building Green refers to a way of designing and constructing buildings to increase performance and enhance the health and experience for people who work, live and play in these structures. A green building can:
Offer better water efficiency.
Provide better indoor air quality.
Generate low carbon emissions.
Use renewable energy.
Be space-efficient in size and design.
Offer a healthier and safer built environment for occupants.
Be responsive to local climate conditions.
Use locally-sourced products and services (within a 500 mile radius).
Process waste.
Capture water.
Use minimal materials.
Reuse existing structures
Incorporate low-toxicity, healthy or recycled-content materials.
Last a long time and be simple to maintain.
Leave behind minimal construction waste.
Avoid negatively impacting the site.
Building Green is also about exploration and experimentation.
Does green cost more?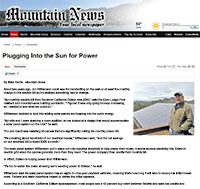 No matter what your style and budget, you can build green by making informed choices. Some green options may cost more upfront, but significantly reduce operating and maintenance costs over time. Other green options cost the same as typical products, but perform better and are more environmentally friendly.
Click here to read more about building green in our featured Mountain News article.