Plugging Into the Sun for Power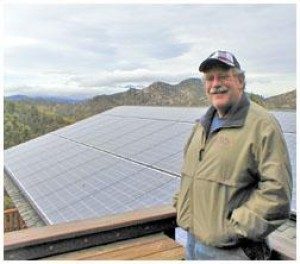 By Mike Harris – Mountain News
About two years ago, Jim Williamson could see the handwriting on the wall-or at least the monthly charge on his electric bill-so he decided something had to change.
"My monthly electric bill from Southern California Edison was $300," said the Deer Lodge Park resident and mountain-area building contractor. "I figured it was only going to keep increasing, so I wanted to see what we could do."
Williamson decided to look into adding solar panels and tapping into the sun's energy.
"My wife and I were planning a room addition, so we looked at a design that would accommodate a solar panel system on the roof," he said.
The end result was installing 30 panels that are significantly cutting his monthly power bill.
"It's providing about two-thirds of our electrical needs," Williamson said, "and the net savings on our electrical bill is about $200 a month."
The solar panel system Williamson put in place not only supplies electricity to help power their house, it sends surplus electricity into Edison's electric grid when the panels generate more than they need. The power company then credits their monthly bill.
In effect, Edison is buying power from Williamson.
"It's fun to watch the meter showing we're sending power to Edison," he said.
Williamson said his solar panel system has an eight- to nine-year payback estimate, meaning that's how long it will take to recoup his initial investment. Federal and state incentives helped to defray the initial expense.
According to a Southern California Edison spokesperson, most people see a 45 percent buy down between federal and state tax credits and rebates. A section on Edison's website -www.sce.com/solarleadership – answers questions about incentives and rebates.
All solar panel installations require a building permit, and one of the factors county officials check is whether the system is designed to handle mountain snow loads.
"For example, the snow load for Lake Arrowhead is 75 pounds per square foot, while Cedarpines Park is 50 pounds per square foot, and Blue Jay is 100 pounds per square foot," said Henry Roe, building official for the county's Land Use Services department.
Roe also stresses that homeowners or businesses interested in adding a solar panel system to their property use a licensed contractor.
"Make sure you are working with licensed contractor," he said. "That's the biggest safety mechanism you have. And check to see if their license is current. Also, check with Southern California Edison, because it has a list of contractors who handle solar."
Lake Arrowhead's Neale Perkins is someone else who saw the energy handwriting on the wall and looked into a solar panel system for his home.
"All things considered," he said, "with incentives, about 50 percent of the cost was being reimbursed through Edison. We cut our bills to practically nothing."
Perkins did something different about his panels. Instead of mounting them on his roof, he had them mounted on poles.
"We happen to have a southern facing hillside, and it's not visible except from other side," he said. "So we had them placed there."
Perkins' system has about 1,300 square feet of panels.
"Our panels are free mounted, and we did have to compute the snow load on the poles," he said. "When there's snow on them, they don't produce anything. But the snow doesn't last all that long. Because of the angle, the snow glaciers off."
Perkins had his solar panel system installed in 2007. At first, he tried to brush the snow off.
"But we found it wasn't worth the time to do it," he said. "It slides off pretty quickly."
Perkins did find something interesting, however, about having solar panels in the mountains; they seem to generate more energy up here.
"It's really an interesting issue," he said.
Most of the estimates for energy efficiency are based on having panels at sea level or in the Los Angeles area, he said.
"We're at 5,000 feet plus here in Lake Arrowhead," he said. "There's more atmosphere for the sun to penetrate down there. And there's also June gloom. We don't have that problem up here."
The combined effect of less atmosphere to penetrate, and the fact that solar panels produce more energy when they are cool, he said, and the absence of May gray and June gloom, add up to more efficient panels.
Not all mountain properties are suited for solar panel installations, both Williamson and Perkins said.
"You need pretty much a southern exposure, and then there's the issue of shade," Perkins said.
"And if you are in the forest, with lots of trees around you, it might not work out," Williamson said.
Both men say there's another factor to consider about adding solar panels.
"There's a good feeling you get that you're going green," Perkins said.